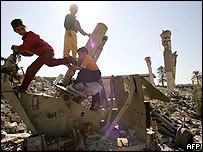 More and more children in Iraq do not have enough food to eat

The BBC reports:

Increasing numbers of children in Iraq do not have enough food to eat and more than a quarter are chronically undernourished, a UN report says.
Malnutrition rates in children under five have almost doubled since the US-led invasion - to nearly 8% by the end of last year, it says.

The report was prepared for the annual meeting of the UN Human Rights Commission in Geneva.

It also expressed concern over North Korea and Sudan's Darfur province.

Jean Ziegler, a UN specialist on hunger who prepared the report, blamed the worsening situation in Iraq on the war led by coalition forces.


The silent daily massacre by hunger is a form of murder - it must be battled and eliminated
Jean Ziegler

He was addressing a meeting of the 53-nation commission, the top UN rights watchdog, which is halfway through its annual six-week session.

When Saddam Hussein was overthrown, about 4% of Iraqi children under five were going hungry; now that figure has almost doubled to 8%, his report says.

Governments must recognise their extra-territorial obligations towards the right to food and should not do anything that might undermine access to it of people living outside their borders, it says.

That point is aimed clearly at the US, but Washington, which has sent a large delegation to the Human Rights Commission, declined to respond to the charges, says the BBC's Imogen Foulkes in Geneva.

Increasing hunger

Mr Ziegler also said he was very concerned about the lack of food in North Korea, where there are reports that UN food aid is not being distributed fairly.

In Darfur, the continuing conflict has prevented people from planting vital crops, he said.

Overall, Mr Ziegler said he was shocked by the fact that hunger is actually increasing worldwide.

Some 17,000 children die every day from hunger-related diseases, the report claims, calling the situation a scandal in a world that is richer than ever before.

"The silent daily massacre by hunger is a form of murder," Mr Ziegler said. "It must be battled and eliminated."