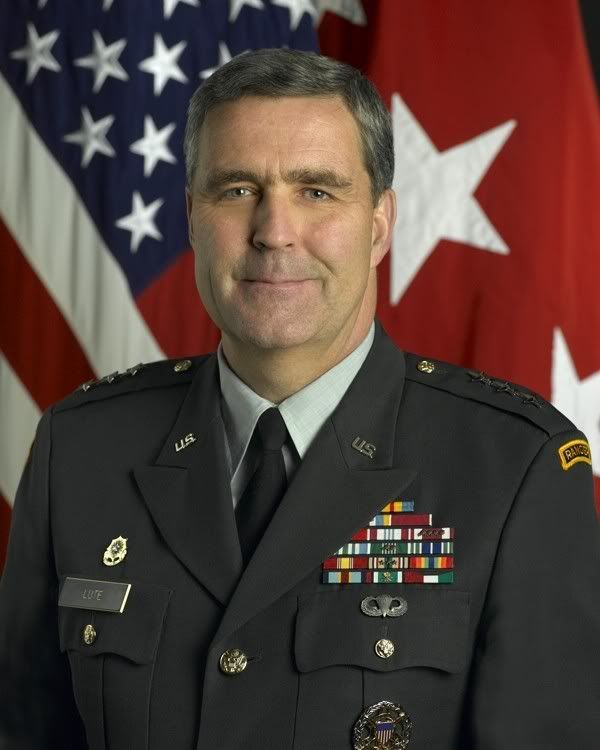 Bio - Lieutenant General Douglas Lute:

Director for Operations, J-3

Douglas E. Lute, originally from Michigan City, Indiana, graduated from the United States Military Academy at West Point in 1975. His first assignment was to the Second Armored Cavalry Regiment in Bindlach, Germany, where he commanded C Troop. He received a master's degree from Harvard University and taught in the Social Sciences department at West Point.

Following attendance at the British Army Staff College, he returned to the Second Cavalry as operations officer, serving both at the squadron and regimental levels. In 1990-91 he deployed and fought with the Regiment in Operation DESERT STORM, and later served on the staff of the Chief of Staff of the Army.

He commanded 1st Squadron, 7th Cavalry at Fort Hood, Texas from 1992-94. He then served on the Joint Staff in the Directorate for Strategic Plans and Policy, J-5, and held a War College Fellowship at the Atlantic Council in Washington.

From 1998-2000 he commanded the Second Cavalry Regiment, part of XVIII Airborne Corps, at Fort Polk, Louisiana. He served next as the executive assistant to the Chairman of the Joint Chiefs of Staff for 14 months before joining the First Infantry Division in Schweinfurt, Germany, as the Assistant Division Commander. He commanded Multi-national Brigade East in Kosovo for 6 months in 2002 before being assigned to US European Command in January 2003 as the Deputy Director of Operations.

In June 2004, he began more than two years as Director of Operations (J-3) at US Central Command during which he oversaw combat operations in Iraq and Afghanistan as well as other operations in the Middle East, Central Asia, and the Horn of Africa. He assumed duties as Director of Operations, the Joint Staff, in September 2006.