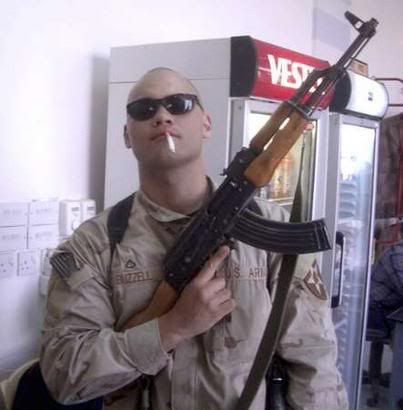 For AHN, Jacob Cherian writes:
A U.S. soldier describing his experience in war torn Iraq has walked away with the $10,000 2007 Lulu Blooker Prize. This comes amid the U.S. government's campaign to restrict soldiers' blogs that have not won prior approval from the government.

The award for books based on blogs went to "My War: Killing Time In Iraq," by Colby Buzzell.

"My War may be the last frank and open military blog blook," said Paul Jones, chair of the Blooker judges, reports BBC news.

"Endlessly surprising... delightfully profane," Arianna Huffington, a Blooker judge this year, commented on the winning selection.

She added it was "an unfiltered, often ferocious expression of his boots-on-the-ground view of the Iraq war."

Buzzell said he had blogged from an army cyber café during his posting in Iraq.

The U.S. army had requested the blog be shut down, but by the time Buzzell had won the interest of several publishers.

"My War tells what it's like to be a grunt fighting in the Sunni Triangle with more power and authority than the best 'embedded reporter' could manage," Blooker judge Nick Cohen, told BBC.

"It's something of a triumph for blogs over traditional media," added Cohen.

"The success of books like My War reflects the growing recognition of 'trickle-up writing', or writing that starts online," Bob Young, chief executive of the Blooker's sponsor, Lulu.com, told BBC.