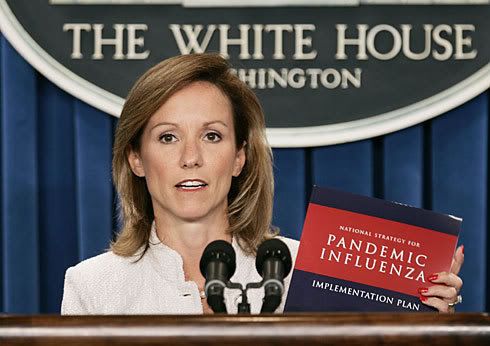 CQ reports:

Frances Fragos Townsend, President Bush's top homeland security adviser since 2004, has resigned, the White House said Monday.

Townsend joins a laundry list of top-level officials to leave the administration in Bush's second term, including political guru Karl Rove, press secretary Tony Snow, Attorney General Alberto R. Gonzales and Defense Secretary Donald H. Rumsfeld.
As assistant to the president for homeland security and counterterrorism, Townsend was a key player in the administration's efforts to fight terrorism.

"Fran has always provided wise counsel on how to best protect the American people from the threat of terrorism," Bush said in a statement. "We are safer today because of her leadership."

White House spokeswoman Dana Perino said Townsend has been discussing her departure with the president for months, and left to "pursue some private-sector opportunities.

"She does intend to remain very active in the public debate about counterterrorism, and especially the tools that she believes policymakers and the intelligence community and the Justice Department officials and others across the government need in order to beat back the very determined enemy that we face," Perino said.

She said no replacement has been named, and Townsend would stay at her post through the holiday season.