Judiciary Chairman Endorsed Justice Nominee but Says He, Like Other Democrats, Is Concerned About Torture Question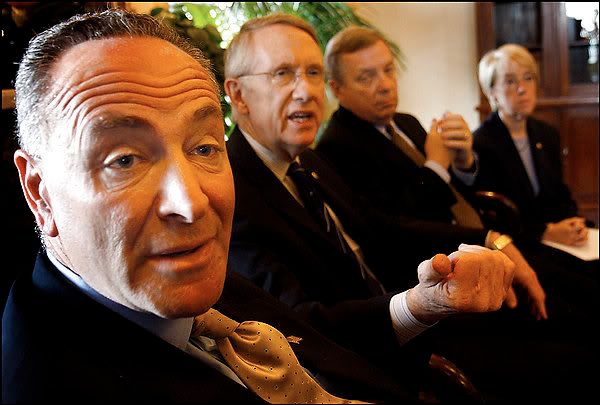 Sen. Charles Schumer, foreground, said he is "wrestling" with the decision of whether to recommend a full Senate confirmation vote for Michael Mukasey. Schumer talked to reporters about Mukasey and other topics yesterday with fellow Senate Democrats, from left, Harry Reid, Richard Durbin and Patty Murray. (By Melina Mara -- The Washington Post)
The Washington Post reports
:
As Democratic opposition builds over attorney general nominee Michael B. Mukasey, no Democratic lawmaker has found himself in a tighter spot than Sen. Charles E. Schumer (N.Y.), who had eagerly recommended the former federal judge as a consensus candidate.
After Mukasey refused to say whether an interrogation technique called waterboarding amounts to illegal torture, Schumer has watched a growing number of his colleagues announce their opposition to the judge.


Schumer, who has remained uncharacteristically quiet throughout the furor, said in an interview yesterday that he is now "wrestling" with whether to vote against a nomination that he was instrumental in bringing about. He compared the controversy to the 2005 nomination battle over Chief Justice John G. Roberts Jr.

"From this administration, we will never get somebody who agrees with us on issues like torture and wiretapping," Schumer said at one point, suggesting an argument in favor of Mukasey, who faces a Senate Judiciary Committee vote on Tuesday. "The best thing we can hope for is someone who will depoliticize the Justice Department and put rule of law first."

But Schumer said minutes later that his mind is not made up: "He's the best we can get, but that doesn't necessarily ensure a yes vote. I thought John Roberts was the best we could get, but I voted no."

The outcome of Schumer's internal struggle could prove pivotal to Mukasey's chances, as a growing number of Democrats, including four other members of the Judiciary Committee, have announced their opposition to the nominee, as have all four senators who are seeking the Democratic presidential nomination.

The deteriorating political situation led President Bush yesterday to mount a vigorous defense of Mukasey, saying that Democrats are subjecting the former federal judge to standards that no candidate for attorney general could meet.

"It's wrong for congressional leaders to make Judge Mukasey's confirmation dependent on his willingness to go on the record about details of a classified program he has not been briefed on," Bush said in a speech at the Heritage Foundation in Washington. "If the Senate Judiciary Committee were to block Judge Mukasey on these grounds, they would set a new standard for confirmation that could not be met by any responsible nominee for attorney general. That would guarantee that America would have no attorney general during this time of war."

But key Democrats continued to signal opposition to the suddenly controversial nominee. Senate Majority Leader Harry M. Reid (D-Nev.) said his position is not "much of a secret," saying Mukasey's attempt at explaining his view on waterboarding has left his nomination in doubt.

Sen. Edward M. Kennedy (D-Mass.) announced his opposition yesterday, becoming the fourth Democrat on the Judiciary Committee to promise a no vote. Judiciary Chairman Patrick J. Leahy (D-Vt.), who originally predicted easy confirmation but has since become deeply critical of Mukasey, is expected to announce his position today in Vermont.

All nine Republicans on the committee are likely to support Mukasey, but if all 10 Democrats oppose the nominee, the confirmation would die in committee.

Republicans privately say that the nominee's prospects hang on a few votes, particularly those of Schumer and Sen. Dianne Feinstein (D-Calif.), who has broken ranks with her party in the past. Should Schumer and Feinstein side with other Democrats in opposition, Judiciary Republicans are likely to seek to forward the nomination with a neutral or negative recommendation to the full Senate for a confirmation vote.

Schumer originally suggested Mukasey to head the Justice Department eight months ago, after the senator became the first Democrat to call for the resignation of then-Attorney General Alberto R. Gonzales over his handling of the firings of nine U.S. attorneys. Schumer, whose chief counsel is a former federal prosecutor in the Manhattan courts that were overseen by Mukasey, had also recommended him as a worthy Supreme Court candidate in 2005.

But Mukasey, who was sailing to an easy confirmation, alarmed many Democrats on Oct. 18 when he repeatedly refused to say whether waterboarding is torture. The technique, which simulates drowning, has been used by the CIA but is barred by the U.S. military and has been widely condemned as torture by human rights groups.

Mukasey tried to mollify Democrats by saying in a letter earlier this week that he found the technique personally "repugnant," but he reiterated that he could not determine whether it is illegal without being privy to classified details.

Mukasey's response has been deemed insufficient by many Democrats and sparked an outcry among antiwar liberals who provided much of the political energy -- and financial contributions -- that propelled Democrats to the majority. Schumer, who chairs the Democratic Senatorial Campaign Committee, needs those supporters as he tries to expand the majority next year. One group, Democrats.com, began an e-mail campaign last night urging its supporters to withhold donations to Schumer if he votes for Mukasey.

During yesterday's telephone interview, Schumer said that his decision will hinge largely on whether he believes Mukasey would be independent of the White House. He said that was "called into question" by some of Mukasey's views.

"The question is whether he will show the requisite independence," Schumer said. "That's what I want to clear in my own head. . . . If Congress passes a law forbidding waterboarding, would he enforce that?"

Schumer's colleagues are keenly aware of his awkward position. In announcing his opposition to Mukasey on Wednesday, Majority Whip Richard J. Durbin (D-Ill.) said he could not predict the outcome of the close vote and noted the undecided posture of Schumer, with whom Durbin lives in a group house of Democrats. "I haven't polled my colleagues, including the one I live with," Durbin said.

Some Republicans, meanwhile, are openly chortling at Schumer's dilemma.

"Mukasey and Schumer, aren't they partners? Wasn't that the Schumer pick?" Sen. Trent Lott (R-Miss.) said yesterday. "It's become a problem for him."