Leslie Day feeding sea gulls from her 43-foot cruiser at the 79th Street Boat Basin. Dr. Day, a naturalist and author who teaches at an elementary school, has lived at the boat basin for 32 years.
From the New York Times:
Leslie Day flirted, dated, married, raised a family and found her life's work in Manhattan — or rather, just off its shore.
Born on the Upper West Side, she moved to a 34-foot houseboat at the 79th Street Boat Basin when she was 30, single and a masseuse. She found her future husband, a biologist, on the 43-foot houseboat next door. After they were wed, they traded up to a 57-foot houseboat, and they raised a son. Now, as empty-nesters, the couple live on a 43-foot cruiser.


Dr. Day, 62, who is now an elementary school teacher, recently wrote "Field Guide to the Natural World of New York City." When Mayor Michael R. Bloomberg honored her book last fall in a ceremony at Gracie Mansion, he reached the part of his script that noted where she lived and ad-libbed a reaction she had heard many times. "Do you really?" he said. "That's amazing. Thirty-two years and it never sunk or anything like that?"

Since 1937, when Franklin Delano Roosevelt was president, the 79th Street Boat Basin has been an object of fascination off the island of Manhattan, part fishing village, part Monte Carlo and all floating opera all of the time.

The boat basin floats on five main docks on the banks of the Hudson River. For decades, there have been as many as 100 pleasure craft, some pristine, others slovenly — schooners, houseboats, yachts and trawlers — tethered just off the Riverside Park promenade, three blocks from Broadway and Zabar's.

Critics have called the residents squatters on public property, in a high-end trailer park; even the city government, which owns the docks, has not always been comfortable with the arrangement.

But the boaters call themselves a community with rights like any other. Residents have ranged from millionaires to those between jobs. All seem to embrace self-expression. One man liked wearing a Superman sweatshirt as he bounced on a trampoline on the dock.

"Over the years," said Ed Bacon, 67, a yacht broker and the resident of longest standing at more than 37 years, "we've had starving artists, Wall Street financiers, rock promoters, computer programmers, United Nations employees and," pausing to laugh, "Dick DeBartolo." He is a senior writer at Mad magazine, who maintains a boat as an office.

Mr. Bacon, a former I.B.M. executive, would not have it any other way. Living among people like himself, he said, would be like "reading from only one page of a book."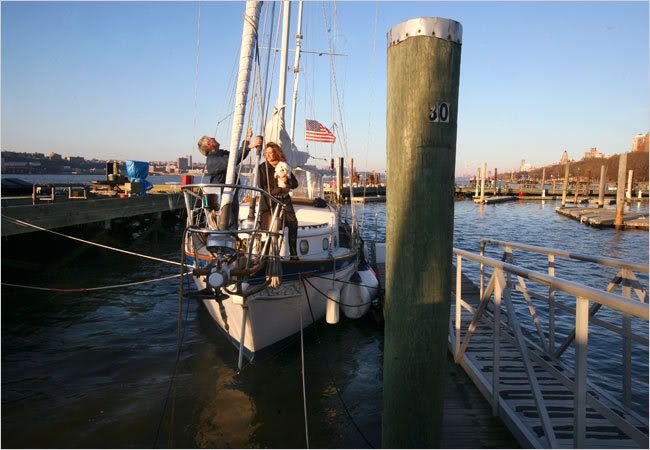 Ed Bacon, the resident of longest standing at the 79th Street Boat Basin, and Regina Jordan with their pet, Ollie, at home on their ketch. Mr. Bacon is a former I.B.M. executive; Ms. Jordan is a chef. "At first, in the 1970s, the boat basin was a divorcés' heaven," Mr. Bacon said. "All of these guys were divorced and all they would wind up with is the boat. It became a real party place."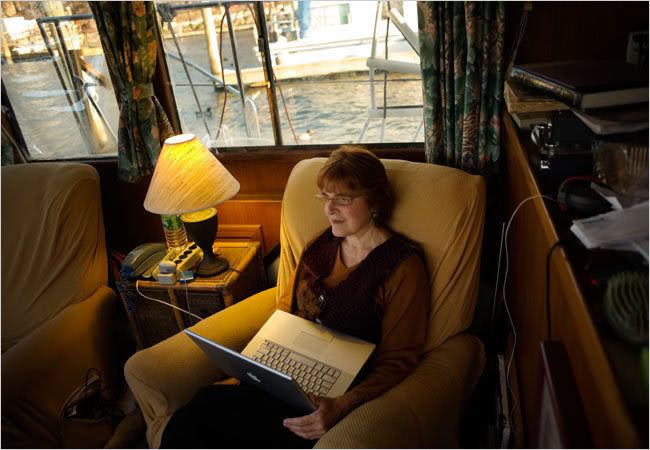 The naturalist Leslie Day on her cruiser. Mayor Michael R. Bloomberg wondered if she had ever lived on a boat that sank.
[photos by Gabriele Stabile]

Celebrities have visited, too. Aristotle Onassis once anchored his yacht there. Malcolm Forbes, Frank Sinatra and Mario Puzo, whose boat was named Godfather, used the basin.

But the living, despite appearances, is not always easy. When a ferry rumbles past, throwing up a huge wake, the residences buck and weave like horses. Low tide, meaningless on land, sends the docks downward by five feet or more.

In the cold months, pets fall into chilly water. People slip on icy piers. In an especially frigid winter, a miniature Antarctica can freeze around the basin. In 2005, ice floes caused more than $400,000 damage to the river pilings and other dock infrastructure, according to the city's Department of Parks and Recreation.

Miraculously, there have been no major fires. But bloated corpses have bumped up boat side, spoiling someone's morning coffee. Once, a distraught man in a tuxedo leapt into the river, but residents saved him.

What the boat basin has not had for a while is newcomers, though that is beginning to change.

Keith Kerman, the chief of operations for the Parks Department, said the agency stopped issuing permits for year-round dockage in 1994 in an effort to gradually reduce the population of full-timers, who once occupied nearly all of the 116 permanent slips. The city wanted more public access, and more revenue: Short-term rentals bring in more money. Now, the number of full-timers has fallen to 43.

After years of clashes with the remaining residents, the two sides reached a compromise: The department would issue a small number of new annual permits, infusing new blood into the community.

A permit to dock a boat is one of the last real estate bargains in Manhattan, costing a fraction of even a tiny Upper West Side apartment rental. It costs $108 a foot for the summer season; $88 a foot for the other six months. Thus, a typical 30-foot boat would cost $5,880 in annual dock fees, or $490 a month.

Planned by Robert Moses when he was the city parks commissioner, the boat basin was built in 1937 to offer summer dockage to the public.

By the 1960s, however, boaters began to live there year-round and the number of so-called transient boaters, those who stayed for days or weeks, fell.

By the 1970s, there were problems. Outside managers stopped maintaining the docks, and residents filed lawsuits.

In 1989 the city resumed management of the basin.

One of the fiercest critics of the boat basin has been the Riverside Park Fund, a private group that raises money for the park. In 1991, Peter M. Wright, then its chairman, said, "The people in the boat basin are squatters on public land."

Now, James T. Dowell, the fund's president, said, "The conditions are immeasurably improved." He added, "The fund has been pleased that the balance has shifted toward seasonal and day people, so it's a much more public amenity."

There is a full-time dockmaster. The Parks Department provides, free of charge, a boat pump-out system that connects directly to the boats of full-timers and visitors. (Dumping raw sewage into the river is illegal.) Paper and other garbage can be discarded in a nearby container. A fresh-water line system is also free, but electricity, telephone, television and Internet access are paid for by boaters.

Mr. Bacon, who began living at the boat basin during the Lindsay administration, and his second wife, Regina Jordan, live with a 2-year-old toy poodle, Ollie, on a two-mast cutter-rig ketch that is 54 feet long. It is Mr. Bacon's third and largest boat.

Mr. Bacon remembers his first winter, in 1970, as especially tough. It was hard to get electricity to boats, he recalls, and there were frequent power failures. To get fresh water, boaters ran garden hoses underwater and to their boats. Mr. Bacon remembers hauling six or seven buckets of water from the dock faucet just to take a shower.

"You learned to cooperate very quickly," he recalled. Camaraderie and cocktails were strong.

"At first, in the 1970s, the boat basin was a divorcés' heaven," he said. "All of these guys were divorced and all they would wind up with is the boat. It became a real party place."

With the increase in part-timers, revenues from dock fees have risen sixfold, to $241,000 last year from $40,000 in 2001. (There is a waiting list of 450 names for part-time slots, from May to October.)

Last month, an audit by the city comptroller found "fiscal irregularities" that raised "serious concerns about the possibility of fraud." The comptroller, William C. Thompson Jr., recommended a much tighter system of monitoring operations, including the collection, recording and reporting of gross receipts.

The parks commissioner, Adrian Benepe, said that the department had already strengthened fiscal controls and that there was no evidence of misappropriation of funds.

Last year, when the Parks Department began issuing new annual permits, the first two boaters began moving in.

Sim Cass, 51, a baker and a former sailor in the British merchant navy, is one of them.

He said that he fell in love with the boat basin at first sight, in 1983. "You can see the horizon and the sun and the arc of the moon," he said, "and yet you are decidedly in Manhattan."

Mr. Cass, who now lives in an apartment in the East Village, first applied for a year-round permit seven years ago and was finally issued one last October. He plans to move in this summer and live on his 37-foot trawler, which is already docked there.

"I'd love to live there now," he said, noting that he is waiting for his daughter to leave for college. "Wintertime is spectacular!"

Like other new full-timers, Mr. Cass must ensure his boat is seaworthy. By May of next year, the 19 full-time boats that the Parks Department considers unseaworthy must be fully operational, in case of an emergency evacuation.

Gene Greenspun, now 89, lived on his boat for 32 years until 2002, when an early-morning wake from a passing boat smashed his craft against the pier. He escaped but his boat sank.

A widower who now lives in an East Side apartment, Mr. Greenspun said the other day that he was miserable, as he put it, "on land."

But Mr. Greenspun, a developer of a manufacturing process for children's dolls, could not move back. "It was like a child dying," he said. "You don't hang around the place where the child died."

For Mr. Greenspun and others who have left, Mr. Bacon, the yacht broker, is planning a reunion June 12 at the boat basin. So far, he has contacted more than 100 alumni, out of several hundred.

"We'll have a lot to talk about," Mr. Bacon said.