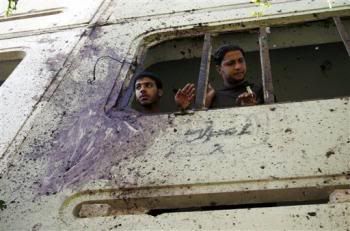 Two Iraqi men look out from a damaged window, from where the body of a civilian was recovered, at an apartment building after a U.S airstrike in the Sihha district in Dora southern Baghdad, Iraq, early Friday, Sept. 28, 2007. Iraqi police and witnesses said U.S. troops backed by helicopter gunships raided an apartment building in a primarily Sunni neighborhood in southern Baghdad on killing at list 10 civilians and wounding 12. The U.S. military said it was checking into the report. (AP Photo/Loay Hameed)
An Iraqi man stands behind a pool of blood outside an apartment building after a U.S. air strike in the Sihha district in Dora southern Baghdad, Iraq, early Friday, Sept. 28, 2007. Iraqi police and witnesses said U.S. troops backed by helicopter gun ships raided an apartment building in a primarily Sunni neighborhood in southern Baghdad on killing at list 10 civilians and wounding 12. The U.S. military said it was checking into the report. (AP Photo/Loay Hameed)

Iraqi women react during a funeral after a U.S airstrike in the Sihha district in Dora southern Baghdad, Iraq, early Friday, Sept. 28, 2007. Iraqi police and witnesses said U.S. troops backed by helicopter gunships raided an apartment building in a primarily Sunni neighborhood in southern Baghdad on killing at list 10 civilians and wounding 12. The U.S. military said it was checking into the report. (AP Photo/Loay Hameed )
Iraqi men stand in front of three coffins during a funeral of victims after a U.S. air strike in the Sihha district in Dora southern Baghdad, Iraq, early Friday, Sept. 28, 2007. Iraqi police and witnesses said U.S. troops backed by helicopter gun ships raided an apartment building in a primarily Sunni neighborhood in southern Baghdad on killing at list 10 civilians and wounding 12. The U.S. military said it was checking into the report. (AP Photo/Loay Hameed )
The International Herald Tribune reports:
Iraqi police and witnesses said U.S. troops backed by helicopter gunships raided an apartment building in a primarily Sunni neighborhood in southern Baghdad on Friday, killing 10 civilians and wounding 12. The U.S. military said it was checking into the report.

An unknown number of people also were detained after the 2 a.m. incident in the Sihha district in Dora where clashes took place between U.S. helicopters and gunmen, said a police officer who spoke on condition of anonymity because he was not authorized to release the information.
Shaheed Abdul-Al, a 42-year-old metal worker who lives in the area, said his family was awakened by the sound of helicopters, heavy gunfire and bombing.

"We saw a big spark of light with bombing sounds come from the direction of the (targeted) building," he said. "We were horrified and still awake at sunrise."

Ahmed Salim, a 16-year-old student who lives near the targeted complex, said he saw U.S. military vehicles through his window.

"When the Americans left, I and others rushed to the site where people began to rescue victims," he said. "I saw some injured ones and dead bodies."

In violence north of Baghdad, at least six people were killed when four gunmen with long beards wearing military uniforms barged into a busy cafe late Thursday as people were playing a popular game to celebrate the end of the dawn-to-dusk fast during the Islamic holy month of Ramadan.

The men arrived in a Russian-made military vehicle used by the Saddam Hussein-era army and opened fire, shouting, "God is great," according to a provincial police officer who asked that his name not be used for fear of reprisals.

The six killed included three off-duty police officers and eight other people were wounded, the officer said.

The attack occurred in Sadiyah, a town some 95 kilometers (60 miles) north of Baghdad in the volatile Diyala province.