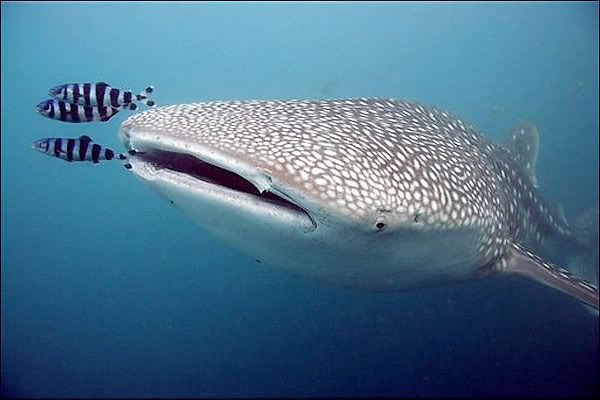 In this undated photo released by the Georgia Aquarium in Atlanta, Norton, one of the original whale sharks on exhibit at the aquarium is shown. Officials at the aquarium reported that Norton died early Wednesday, June 13, 2007, and is the second whale shark to die at the facility in five months. (AP Photo/Courtesy of Georgia Aquarium)
The Washington Post reports:
For the second time in less than six months, a whale shark at the Georgia Aquarium, the only facility outside Asia to display the rare fish, has died.
The whale shark, known as Norton, had stopped eating in recent months and was swimming erratically, according to a statement from the aquarium. Veterinary and husbandry staff members conducted tests that confirmed Norton's declining health.


On Tuesday, he was placed on 24-hour watch. Early Wednesday, Norton stopped swimming and settled to the bottom of his 6 million-gallon tank. Divers brought him up on a stretcher for additional tests and treatment, and "after every option had been exhausted to improve Norton's health, the team made the decision to humanely euthanize him," aquarium officials said in the statement.

In January, the aquarium lost another whale shark, the world's largest fish and one of the facility's most popular attractions. Ralph, which arrived with Norton in June 2005 from Taiwan, died of an inflammation to a membrane in his abdomen. Two female whale sharks, Alice and Trixie, came to the facility in June 2006.

Before the females arrived, the aquarium team had noticed both male whale sharks lost their appetites around the same time and theorized it was because of a chemical used in the exhibit to treat parasites, said Ray Davis, senior vice president of zoological operations at the aquarium.

As a precaution, the aquarium stopped using the treatment, he said. But officials are still investigating whether the chemical played a role in the animals' deaths.

"We have some of the pieces but not all of them," Davis said, adding that necropsy results often take months and can be inconclusive. "We want to make sure we move the team from the bereavement phase to the scientific and necropsy phase."

As with Ralph, a necropsy will be performed on Norton and then he will be cremated, according to a letter written to the aquarium's ticket holders by Jeffery S. Swanagan, its president and executive director.

On June 4, the aquarium welcomed two whale sharks from Taiwan, Yushan and Taroko. After reviewing Ralph's death and Norton's health, aquarium officials determined that it would not be a risk to add the pair, Davis said.

The whale shark grows up to 66 feet long and lives in tropical and subtropical waters. It is considered harmless to humans, feeding on plankton and small fish with its approximately 3,000 small teeth.