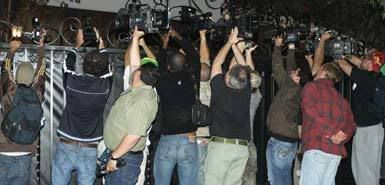 The scene outside of Paris Hilton's home. (photo by Mark J Terrill/AP)

Times Online reports:
A US judge ordered Paris Hilton to appear in court in person today and ordered sheriffs to go and fetch her for a hearing to reconsider her early release from jail.

The ruling was made after a furious row erupted over an earlier decision to allow the celebrity heiress to appear in court via a telephone link.

Hilton's on-off bid for freedom will continue in front of Superior Court Judge Michael T. Sauer, who dispatched a court vehicle to collect the socialite from her home in the Hollywood Hills, which is surrounded by paparazzi and reporters.

She was allowed to return home yesterday after serving just three days of her 45-day sentence for driving offences and told she that could complete her punishment under house arrest.

The decision to allow her to complete her sentence in the comfort of her own home for "medical reasons" was met with outrage.

Don Knabe, County Supervisor, said he had received more than 400 angry e-mails and hundreds more phone calls from around the country complaining about the decision to release Hilton from prison. "What transpired here is outrageous," he said. "[It] gives the impression of ...celebrity justice being handed out."

Public denunciations flowed from the sheriff's deputies union, local politicians, civil rights leaders, defence attorneys and, most crucially, from Judge Sauer himself, the judge who originally sentenced the hotel heiress to jail time.

The judge had specifically ruled that the socialite must serve her term in prison rather than at home. When he learned of the decision by the Los Angeles County Sheriff's Department to release Hilton early, he demanded that she return to court, where she may be sent back to jail today.

Prosecutors have also threatened to hold the Sheriff's Department in contempt of court for releasing Hilton early contrary to the orders of the court.

Sheriff Lee Baca has defended his decision to release her early. "It isn't wise to keep a person in jail with her problem over an extended period of time and let the problem get worse," Baca told the Los Angeles Times.

Hilton was driven out of jail in the dead of night on Thursday. Reports have suggested that Hilton had not been eating or sleeping since her arrival last Sunday at the Los Angeles County jail. She has phoned her lawyers to complain about her pillows and blankets and is said to have spent hours sobbing in her cell.

"Paris Hilton has been fitted for an ankle bracelet and put under house arrest, after authorities determined to release Hilton from prison due to medical reasons," said Steve Whitmore, Los Angeles County Sheriff's Department spokesman.

Officials would not discuss Hilton's medical condition, but confirmed that the decision to release her from jail was made after extensive consultation with medical personnel.

The New York Post reported that she has been seeing a councillor and refused to eat her prison-issue hot dog on Tuesday night.

Hilton's sentence had been reduced from 45 to 23 days for good behaviour, but under the deal to release her into the community she would now serve the full term.

The star of the Simple Life reality television show would not be able to travel more than 30 yards from her house for the next 40 days.

Hilton is likely to host some well-known visitors during house arrest in her mansion in the Hollywood Hills. One of her legendary parties was broken up by police earlier this year and guests have included Cameron Diaz, Nicole Ritchie and Britney Spears.

Hilton was jailed for driving while banned. She was arrested in Hollywood last September for reckless driving and had her licence suspended, she was told to attend alcohol education classes.

In January she was pulled over by the California Highway Patrol and forced to sign a document reminding her that she was not allowed to drive her car. A month later she was caught at the wheel once again, this time she was charged with violating her probation.

Hilton remained defiant on the eve of her incarceration and made a surprise appearance at the MTV Movie Awards a few hours before checking into jail.

"I hope that I'm an example to other young people," she told a confused crowd outside the film awards show. "I did have a choice to go to a pay jail. But I declined because I feel like the media portrays me in a way that I'm not and that's why I wanted to go to county, to show that I can do it and I'm going to be treated like everyone else. I'm going to do the time, I'm going to do it the right way."

She was housed in the "special needs" unit at the jail in Lynwood and not forced to interact with most of her 2,200 fellow inmates.