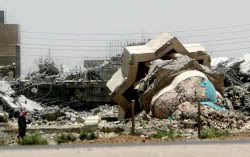 The New York Times reports:

A powerful explosion that reduced a large Sunni Arab mosque to rubble in the southern city of Basra this morning signaled that the cycle of revenge violence following the destruction of the Shiite shrine in Samarra has not entirely unfolded.

Although there had been scattered reprisal attacks on Sunni shrines on Wednesday and early Thursday in the hours after the Samarra shrine's minarets were demolished, strenuous calls for restraint by political and religious figures as well as strict security measures appeared to halt broader violence.

That contrasted with the spate of violence a year ago when 15 people were killed in the immediate aftermath of the destruction of the shrine's golden dome and three imams were killed and a fourth kidnapped. That set off a cycle of sectarian attacks that has yet to stop.

However, it could be that this time, the worst violence occurs once curfews are lifted in Baghdad and elsewhere over the weekend and, that much like last year, the cycle of reprisal killings will unwind over weeks and months.

"We won't see so much right away," predicted an official in the office of Prime Minister Nuri Kamal al-Maliki, "It will come later."

Mr. Maliki ordered an indefinite curfew in Basra, using a strategy that has worked elsewhere since Wednesday's shrine explosion. He also imposed curfews in Baghdad and several other Iraqi cities, and he heightened security across the country.

Those measures were taken as the American military announced that the Baghdad security plan was now fully staffed with 28,500 additional troops on the ground.

Defense Secretary Robert M. Gates was in Baghdad today in an unannounced visit to meet with Iraqi leaders and American generals.

"Frankly we're disappointed with the progress so far and hope that this most recent bombing by Al Qaeda won't further disrupt or delay the process," he told Agence France-Presse during the flight to Baghdad. In recent weeks, Vice President Dick Cheney and Secretary of State Condoleezza Rice visited Baghdad to urge Iraqi leaders to hit benchmarks for political progress set by the United States.

With the exception of Basra, most of Iraq was calm today.

Five American soldiers died in three separate incidents on Thursday. Three were killed by an explosion near their vehicle in Kirkuk province. One died from small arms fire in Diyala and a fifth died from a non-combat related injury, the military said in a statement.

On Thursday, five unidentified bodies were found in Baghdad, far fewer than the police have found daily for several weeks, according to an Interior Ministry official.

But there were several mortar attacks in Baghdad on Thursday. The most damaging occurred in mid-afternoon in the Green Zone, where most American and high-ranking Iraqi officials live, when seven mortar shells rained down, the Interior Ministry said. One exploded near the gate to the Rashid hotel, just across the street from the Convention Center, where Parliament meets.

The blast occurred just 50 minutes before a news conference with the deputy secretary of state, John D. Negroponte; the United States ambassador to Iraq, Ryan C. Crocker; and the secretary of state's coordinator for Iraq, David M. Satterfield. It killed one person and wounded two others, according to the Interior Ministry official. An American military official would say only that there were casualties, and that no Americans were hit.

Mr. Negroponte and Mr. Crocker praised the efforts of Mr. Maliki and his government, including Sunni Arab and Kurdish leaders, to handle the situation in Samarra and their efforts to bring about a broader reconciliation.

Echoing that message, Mr. Maliki, a Shiite, reacted harshly to today's Sunni mosque blast, calling it "a serious crime to inflame sectarian tension among the Iraqi people," according to Reuters.