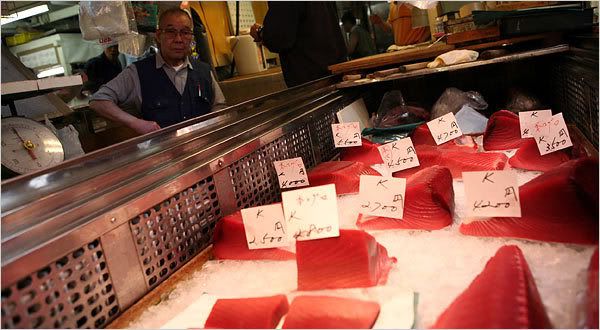 Chunks of raw tuna at Tsukiji, the famed fish market in Tokyo. The growing demand for sushi in countries like Russia and China and depleting tuna stocks are raising prices, and causing chefs to try other ingredients.

[photo by Ko Sasaki]
The NYTimes reports:
Sushi made with deer meat, anyone? How about a slice of raw horse on that rice?
These are some of the most extreme alternatives being considered by Japanese chefs as shortages of tuna threaten to remove it from Japan's sushi menus — something as unthinkable here as baseball without hot dogs or Texas without barbecue.


In this seafood-crazed country, tuna is king. From maguro to otoro, the Japanese seem to have almost as many words for tuna and its edible parts as the French have names for cheese. So when global fishing bodies recently began lowering the limits on catches in the world's rapidly depleting tuna fisheries, Japan fell into a national panic.

Nightly news programs ran in-depth reports of how higher prices were driving top-grade tuna off supermarket shelves and the revolving conveyer belts at sushi chain stores. At nicer restaurants, sushi chefs began experimenting with substitutes, from cheaper varieties of fish to terrestrial alternatives and even, heaven forbid, American sushi variations like avocado rolls.

"It's like America running out of steak," said Tadashi Yamagata, vice chairman of Japan's national union of sushi chefs. "Sushi without tuna just would not be sushi."

The problem is the growing appetite for sushi and sashimi outside Japan, not only in the United States but also in countries with new wealth, like Russia, South Korea and China. And the problem will not go away. Fishing experts say that the shortages and rising prices will only become more severe as the population of bluefin tuna — the big, slow-maturing type most favored in sushi — fails to keep up with worldwide demand.

Last year, dozens of nations responded by agreeing to reduce annual tuna catches in the eastern Atlantic and Mediterranean oceans by 20 percent in an effort to stabilize populations. But the decision only seemed to crystallize growing fears in Japan about tuna shortages, helping to push up prices of the three species of bluefin — northern, Pacific and southern — that are considered the best tuna to eat raw.

Since the start of last year, the average price of imported frozen northern and Pacific bluefin has risen more than a third, to $13 a pound, according to Japan's Fisheries Agency.

Wholesalers say that competition from foreign fishing fleets and buyers has made the top-quality tuna increasingly hard to come by here. Tadashi Oono, who sells big red slabs of tuna from a stall in the sprawling Tsukiji fish market of Tokyo, said that three years ago, he routinely sold two or three top-grade bluefin every day. This year, he said, he sometimes finds only two or three tuna of that quality to sell in a month.

Some culinary enthusiasts say the anguish over tuna shortages may also reflect deeper anxieties in Japan about its recent economic decline, especially when compared with neighboring China.

After World War II, tuna became a symbol of the economic might that allowed Japan to dominate the buying of tuna on world markets from Boston to Cape Town. Japan now consumes about 60,000 tons a year of the three bluefin species, or more than three-quarters of the world's annual catch, according to the Fisheries Agency.

But as more top-grade tuna ends up in other countries, there are concerns that Japan could one day lose its status as global tuna superpower.

"Fish that would have gone to Tokyo are now ending up in New York or Shanghai," said Sasha Issenberg, the author of "The Sushi Economy" (Gotham, 2007). "This has been devastating to Japan's national esteem."

The tuna shortage is also having a more concrete effect on menus at Japanese sushi bars. Fukuzushi, a midpriced restaurant in a residential neighborhood in Tokyo, is having a tougher time finding high-quality fish at reasonable prices.

The restaurant's owner, Shigekazu Ozoe, 56, said the current situation reminded him of the last time he had no tuna to sell — in 1973, during a scare over mercury poisoning in oceans when customers refused to buy it. At that time, he tried to find other red-colored substitutes like smoked deer meat and raw horse, a local delicacy in some parts of Japan.

"We tasted it, and horse sushi was pretty good," he recalled. "It was soft, easy to bite off, had no smell."

If worse comes to worst, he said, he could always try horse and deer again. The only drawback he remembered was customers objecting to red meat in the glass display case on the counter of his sushi bar.

"One customer pointed and said: 'You have something four-legged in your fish case? That's eerie!' "

So far, top sushi restaurants have avoided the shortages by paying top yen for premium bluefin caught off domestic ports like Ouma in northern Japan.

"The prices of top-name tuna like Ouma are already as high as they can go," said Yosuke Imada, owner of Kyubey in the upscale Ginza district of Tokyo. "What will happen is that the prices of lower grades of tuna will rise to catch up."

That prospect worries Mr. Yamagata of the union of sushi chefs.

Mr. Yamagata, 59, has been experimenting with more creative tuna alternatives at Miyakozushi, a restaurant catering to the business lunch crowd that has been in his family for four generations. He said his most successful substitutes were ideas he "reverse imported" from the United States, like smoked duck with mayonnaise and crushed daikon with sea urchin. He said he now made annual visits to sushi restaurants in New York and Washington for inspiration.

"We can learn from American sushi chefs," Mr. Yamagata said. "Sushi has to evolve to keep up with the times."