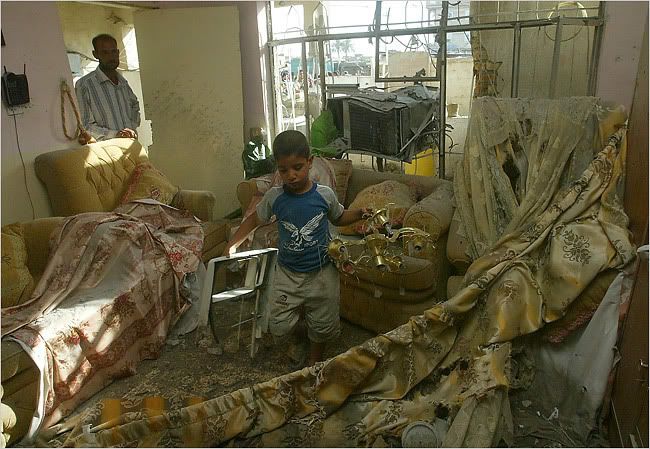 Officials of American-led forces said soldiers killed 26 militants in a raid in Sadr City Saturday, but some residents said civilians were killed. [Kareen Raheem, Reuters]
The New York Times reports:
Two American soldiers have been charged with premeditated murder and planting weapons on dead Iraqis, the United States military said Saturday.
Officials of American-led forces said soldiers killed 26 militants in a raid in Sadr City Saturday, but some residents said civilians were killed.
The soldiers, Staff Sgt. Michael A. Hensley and Specialist Jorge G. Sandoval Jr., were detained after fellow soldiers reported they had been involved in the deaths of three Iraqis near Iskandariya, a stronghold of the Sunni Arab insurgency south of Baghdad, in separate events between April and June this year.
Also on Saturday, the United States military mounted an early morning raid into the Shiite district of Sadr City in Baghdad. Officials with the American-led forces said soldiers had killed 26 militants, but some residents and Mahdi Army militia commanders accused them of killing civilians.


In the murder case, American military officials said Sergeant Hensley, 27, from Candler, N.C., faces three charges of premeditated murder, obstruction of justice and wrongfully placing weapons with the remains of deceased Iraqis. Specialist Sandoval, 20, faces one charge of premeditated murder and one of wrongfully placing a weapon on one of the three Iraqis killed.

Both were serving with the First Battalion, 501st Infantry, of the 25th Infantry Division, which has its headquarters at Fort Richardson, Alaska. Specialist Sandoval was picked up while at home on a two-week leave in Laredo, Tex., the military said. Charges were filed Thursday, and both men are in confinement in Kuwait.

The military said in a statement that an investigation was under way.

The area, part of the so-called Sunni Triangle, is no stranger to controversy.

Two American soldiers have admitted to raping a 14-year-old and killing her and her family in Mahmudiya, a town near Iskandariya, in March 2006, and others also face trial in the killings. Tension has been high since May 12, when an insurgent ambush on a patrol near Mahmudiya killed four American soldiers and one Iraqi, and led to the abduction of three Americans. One soldier's body was later found but the other two soldiers are still missing.

In Baghdad, Lt. Col. Christopher Garver, an American military spokesman, said the raid in Sadr City on Saturday was against a militant cell that was smuggling weapons, explosively formed penetrators, a particularly lethal type of bomb, and money from Iran to aid Iraqi militias.

He said soldiers killed about 26 fighters and detained 17 suspects, but came under attack from small arms, rocket-propelled grenades and roadside bombs as they withdrew from the area. The Americans returned fire against militants shooting from behind buildings and cars.

"Everyone who got shot was shooting at U.S. troops at the time," Colonel Garver said. "It was an intense firefight."

But Iraqi officials said that the death toll was much lower, around eight, and some said that civilians were killed, including a man, his wife and their daughter, who had left their home to check on the disturbance.

Sadr City residents said the American operation was directed at more than one part of the district. Abu Jamal, 50, said he heard troops outside his house in the Sabee Qusoor area early in the morning.

"We were sitting on the roof, all of a sudden the helicopters started throwing flares," he said. "We were afraid, so we left and went downstairs. The whole family went into one room because we started hearing the sound of firing from the helicopters. We couldn't hear any firing from machine guns, only the aircraft firing. It was a horrible night."

In Najaf, a spokesman for the anti-American cleric Moktada al-Sadr, the nominal leader of the Mahdi Army, condemned the raid Saturday and insisted that the militia was not involved in the fight.

"We reject these repeated assaults against civilians. The allegation that Mahdi Army members were the only ones targeted is baseless and wrong," said the spokesman, Sheik Salah al-Obaidi. "The bombing hurt only innocent civilians."

The battle prompted an immediate statement from the office of Prime Minister Nuri Kamal al-Maliki, saying that he would demand clarification from the military.

On the political front, Mr. Maliki appealed for Iraq's largest Sunni bloc, the Iraqi Consensus Front, to end its boycott of his Shiite-dominated government. The boycott began last week as a protest of an arrest warrant issued against one of its members, Culture Minister Asad al-Hashimi, in a murder investigation.

Mr. Maliki said boycotts would only "complicate" matters, and urged them to embrace dialogue as "the only way to solve all the problems now and in the future."

In Diyala Province, a suicide bomber killed three police recruits and wounded 34 lined up outside a police station in Muqdadiya.

Meanwhile, the American military said it killed Abu Abdel Rahman al-Masri, a senior figure in Al Qaeda in Mesopotamia, in a raid east of Falluja on Friday. Colonel Garver said that Mr. Masri, an Egyptian, had worked closely with Abu Ayyub al-Masri, the military leader of the group, and that his body had been identified by known associates.

American commanders also said that on Friday night a tip from an Iraqi led them to a grave containing dozens of bodies near Ferris, 20 miles south of Falluja. The military said in a statement: "Coalition forces uncovered 35 to 40 bodies at the site. The remains were bound and had gunshot wounds. This incident is currently under investigation." It is unclear when or how the victims were killed.

Separately, an American command sergeant major, the most senior enlisted member serving in a major command, was sentenced to four months in detention after being convicted of possessing alcohol and pornography, engaging in an inappropriate relationship with a female soldier in his unit, and maltreating a soldier.

The command sergeant major, Edward Ramsdell, of the 411th Engineer Brigade, was working in Diyala Province at the time, and he was given a court-martial in October. Prosecutors said he had possessed a "large quantity" of alcohol and pornography in his quarters, tried to conceal the evidence when discovered and then tried to escape from investigating officers.