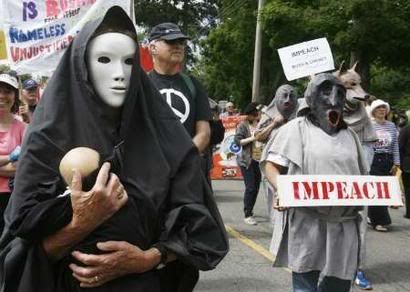 The AP reports:

Hundreds of demonstrators calling for the impeachment of President Bush marched Sunday to within a half mile of the site of the summit between Bush and Russian President Vladimir Putin.

Protesters chanting slogans including "impeach now, impeach now!" carried colorful signs and pulled a wagon with a 7-foot-tall replica of the Statue of Liberty in a coffin, representing the perceived loss of liberties under the Bush administration.

Four demonstrators wearing orange jumpsuits, like those worn by detainees at the U.S. Navy base in Guantanamo Bay, Cuba, kneeled on the ground near a police roadblock. Two demonstrators who crossed the police line were arrested.

The crowd estimated by police at 1,700 criticized both world leaders -- Bush for the war in Iraq and Putin for his hard line in Chechnya.

Jamilla El-Shafei, one of the organizers, said Bush and Putin have inflamed tensions that are already running high in the Muslim world. In particular, she zeroed in on Bush and Vice President Cheney over their handling of the war in Iraq.

"We want the troops home now. We want permanent bases out of Iraq. And we want to hold Bush and Cheney accountable for deceiving the people into an immoral and unjust war, for mutilation of the Constitution and the evisceration of habeas corpus," she said.

The protest began in the morning at the Village Green, a park not far from the center of town with its many tourist shops and restaurants.

The demonstration was organized by the Kennebunk Peace Department and the Maine Campaign to Impeach. But demonstrators represented a wide variety of causes that included ending the genocide in Darfur, fighting corporate greed and improving the environment.

The event featured music, chants and speeches before demonstrators and a small marching band paraded down Ocean Avenue toward the Bush summer home at Walker's Point.

Included in the demonstration was a rolling memorial for Marine Lance Cpl. Alexander Arredondo, who was killed in Iraq on Aug. 25, 2004. His father's pickup truck had a flag-draped coffin with Arredondo's boots and camouflage shirt bearing a purple heart.

"This is my pain. This is my loss," said Carlos Arredondo, who became so upset when he learned of his son's death in Hollywood, Fla., that he tried to destroy a military van and was burned in the process. He now lives in the Boston area.

The demonstrators' main target was Bush, whose unpopular policy in Iraq has come under widespread and growing criticism.

"Outrage and anger isn't enough," said John Kaminski of Maine Lawyers for Democracy, a group of 80 attorneys pushing for impeachment proceedings. "We have a job to do and that job is to hold this administration accountable and take this country back."

But some protesters didn't spare his guest, Putin, who came into office as the Chechnya conflict was flaring. Critics have accused him of human rights violations in suppressing mostly Muslim, separatist rebels in the breakaway region.

Victoria Poupko, who moved from Moscow to Boston 17 years ago, said Bush and Putin are "both criminals" for torture, war crimes and abuse of power, among other things. She carried a sign that said, "Stop imperialism. Bush out of Iraq. Putin out of Chechnya."

"Withdraw from Chechnya, let them have their independence," she said.

While marching down Ocean Avenue, the group encountered a couple of dozen counter-demonstrators waving signs in support of Bush. One of them jumped into the parade and shouted slogans, shouting at one point "liars, liars, liars."

The event was peaceful but two demonstrators who insisted on crossing a police line on Ocean Avenue were arrested and charged with trespassing.

"I pay taxes. I can walk on the street if I want to," one of the protesters, Lynn Curit-Smith of Portland, told Kennebunkport Police Chief Joseph Bruni before crossing the line with two others, one of whom was released because she was a minor.

Bush arrived in Kennebunkport on Thursday at the seaside home that has been in the Bush family for a century. His father, former President George H.W. Bush, has spent at least part of every summer since childhood here except when he served in the Navy during World War II.

Putin planned to spend the night at the home before both leaders' departure on Monday, less than 24 hours later.